Previously, virtual reality was just a fantasy from sci-fi books, but now, thanks to numerous VR
software development
companies, it has become an everyday part of our lives. This technology allows us to observe, feel, and hear things that never really existed. Today, many big players like Meta are creating virtual worlds and using VR for business. No wonder everyone is trying to keep up with them and grab their piece of the cake. But before we start
VR app development
, we need to conduct a thorough research — find out whether a business actually needs it, choose the right development platform, and then look for a
software development services
contractor. We decided to share our insights about VR technology, tell you how such applications are created and how they help businesses. 
Virtual reality app development market research
We've checked some statistics on the VR market and here's why we think that focusing on this technology can help your business. In 2022, consumer and enterprise virtual reality revenue already climbed to 6.71 billion dollars, while in 2024, VR revenues are
expected to reach 12.19 billion dollars
.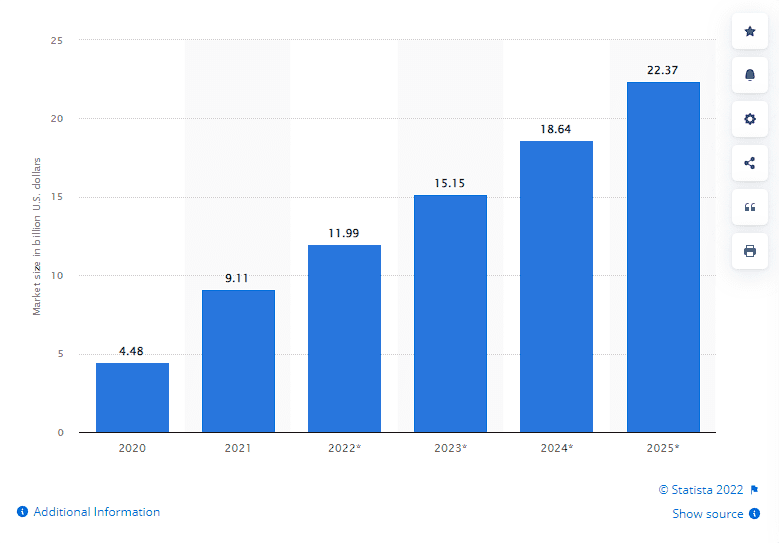 The current statistics of VR app development market.
Another
research from Statista
says that the global VR/AR/XR/MR market will rise to over 250 billion dollars by 2028.
The market continues to grow, and many businesses start to implement VR technologies into their products. The most important fact is that more and more consumers become interested in VR and buy virtual reality equipment. It means that
VR app development
has the potential to improve businesses and bring them profit. VR is a new business direction in general, so the first movers have a great chance to corner the market.
What is a virtual reality app?
First of all, let's figure out what VR is and how it works.
Virtual Reality (VR) is a computer-generated environment with virtual objects and surroundings that make the user feel like they are immersed into it.
The technology takes digital images and videos and turns them into real-life visual experiences that can't be achieved on a regular monitor. Virtual reality uses computer vision and advanced graphics to add depth to images and videos and make them 3D. It also reconstructs the scale and distances between images. This way, it's possible to create a virtual place that users can explore and interact with.
How you can use VR for your business?
Let's see which industries can benefit from VR
software development
and how.
🔴 Gaming
Most people know about VR from the gaming industry — there are thousands of virtual reality games on Steam, PlayStation store, and mobile app stores. Steam is the largest PC gaming platform, and in the 2020 annual report they
reported a 32% growth
of VR game sales. This year was very lucrative for the industry, since 1.7 million users joined the SteamVR platform.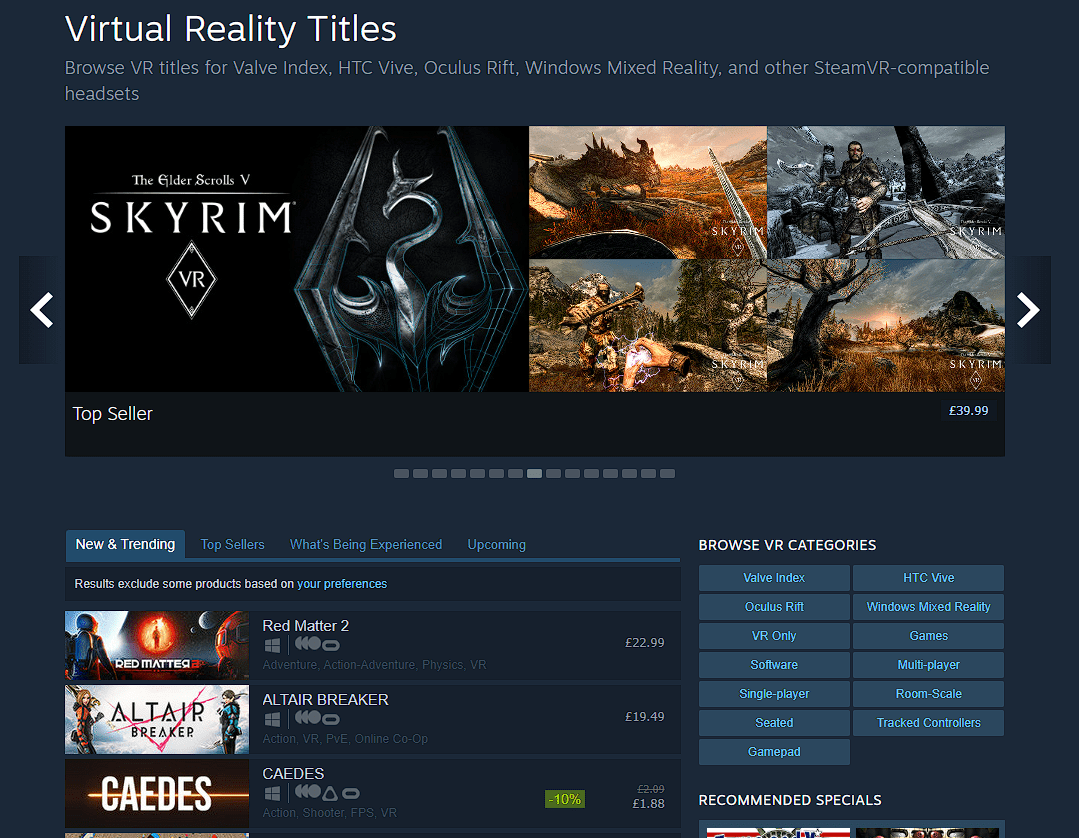 There're more than 5000 VR games on Steam.
🔴 Marketing
You can use
virtual reality apps
in advertising to create a buzz around your brand and let your customers try your products virtually. That's what Adidas did in 2017 — they partnered with Somewhere Else, a tech marketing company, to market TERREX, Adidas's line of outdoor apparel.
They created a VR experience in which people could follow the mountain-climbing journey of two athletes wearing TERREX. Using a VR headset and controllers, viewers could climb the mountain together with the athletes. Adidas gave the viewers an interesting experience and, thanks to it, made the product look more appealing to them.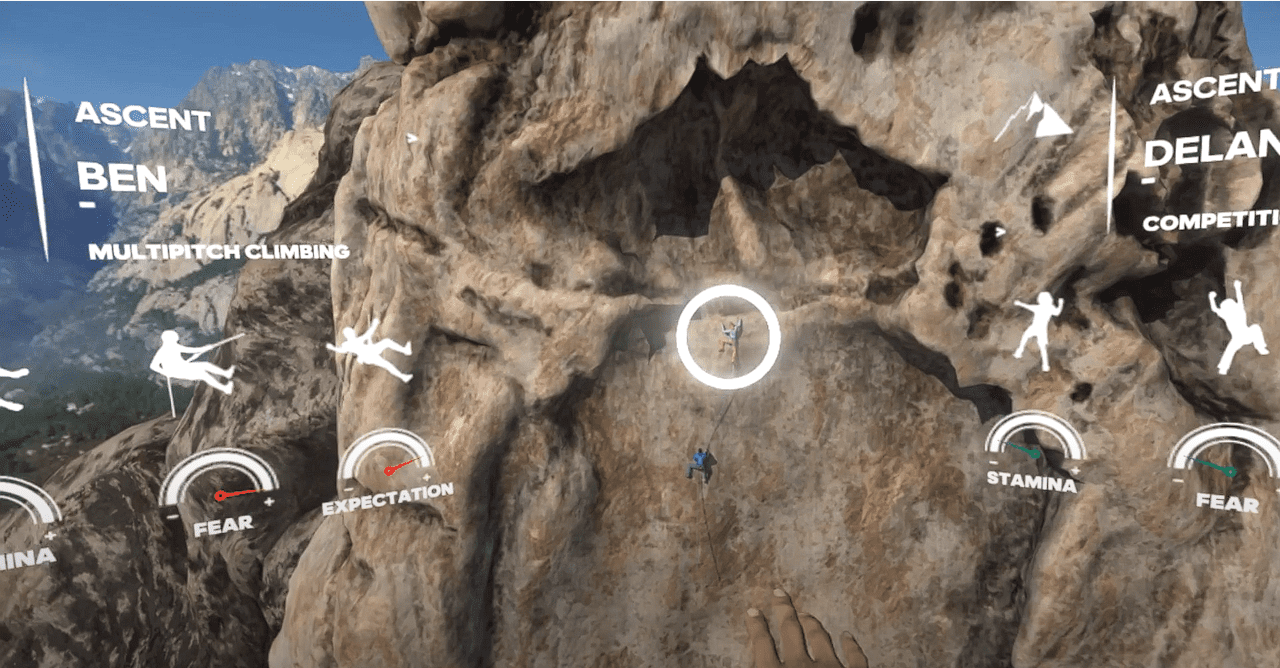 VR experience made by Adidas x Somewhere Else.
🔴 Training and education
Virtual reality helps people practice in a lifelike environment and improve their skills. It's especially useful when it comes to dangerous situations like performing surgical operations or eliminating hazards.
NASA uses virtual reality to train astronauts. In the Virtual Reality Lab, astronauts can train, for example, mass handling and robotics operations.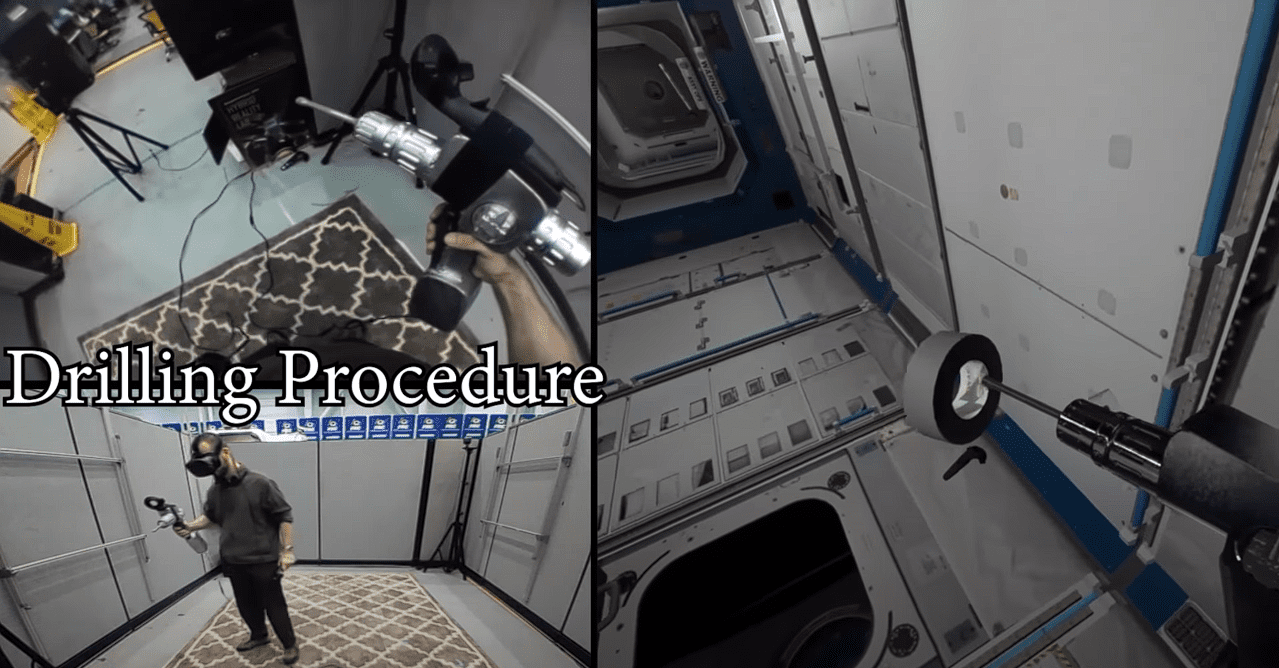 NASA's Virtual Reality Lab for astronaut training.
🔴 Social
Virtual places allow users from all over the world to meet, communicate, and interact like they do in real life. Sometimes people just can't meet in person, and VR meetings are important because they give them a realistic experience.
Meta creates such a VR place called Horizon Worlds. It's a social gaming platform where people can interact with their friends and colleagues, work together, and socialize. Basically, this way Meta is making the first steps to building a Metaverse. That's why they invest so much in VR
software development
and technologies like Oculus — it can be the future of the Internet.
There are Metaverse projects that already exist — Fortnine, Roblox, Second Life, and more. Those are games that also function as social media platforms. Players can communicate with each other, visit events, create stuff, buy and sell stuff. Some of these games already support VR technologies, so they're pretty close to the Metaverse concept.
🔴 eCommerce
You can create virtual showrooms so that buyers can visit your store online. They may be able to browse through clothing, meet with friends in the virtual store and shop together in real-time. A VR headset can provide shoppers a great way to see the characteristics of your products without having to go to your physical store.
In 2017,
Audi used the Oculus Rift
headset to provide customers the ability to view cars in 3D, and customize every aspect of it: paint color, body kit, engine. It's much more interactive than simply selecting features from a list. These VR experiences can help customers engage with the brand more and see what they pay for.
VR applications
create a unique environment, and to enter it, a user needs a VR headset and controllers. Usually,
VR apps
are developed for a specific set of equipment, so if you're interested in
VR app development
, you will need to choose from them. Let's see which devices the market offers and their characteristics.
Virtual reality devices
There are different types of devices — some of them are made for PCs, some for consoles, and others are for smartphones. If you develop a mobile
VR app
, PC and console users won't be able to use it. So, to develop a
virtual reality app
, you need to choose a platform and devices the app will work with.
We compiled a list of the most popular VR devices for now. Oculus was the
top-selling VR headset brand in 2020
, and occupied 53.5 percent of the market, while Sony took the second place among vendors. Let's take a look.
⚫️ Oculus Quest 2
It's a headset developed by Facebook Reality Labs. Oculus has an internal Android-based operating system and requires a smartphone with the Oculus app to start using the headset. The device can also run when connected to a PC with Oculus-compatible VR software.
It offers a comprehensive VR experience, the highest image resolution, and a robust
virtual reality app
library in its onboard store.
⚫️ Sony PlayStation VR
The headset is designed for working with PlayStation 4, it's also compatible with PlayStation 5 but needs an adapter. Apparently, PlaysStation store offers users mostly games, so this platform will fit you if you plan to develop a gaming application. 
It's cheaper than Oculus and VIVE headsets and more affordable since consoles are also cheaper than gaming PCs. PlayStation VR offers the best balance of price, capacity, and features in the category so far.
⚫️ VIVE
VIVE offers several VR headsets for different purposes. VIVE flow is for Androids, VIVE Pro 2 and VIVE Cosmos are for PCs, and VIVE Focus is an all-in-one headset. VIVE Pro 2 is the most popular of them, it's pricey but offers the highest quality VR experience.
The headset works with SteamVR just like Oculus and has its own VR software store called Viveport. The store offers a subscription that gives users unlimited access to
VR apps
, instead of software purchases.
⚫️ Valve Index
Valve's VR headset is one of the most expensive. However, it has the highest refresh rate, which makes actions smoother, and impressive controllers that can track individual finger movements.
The device works with PCs and is compatible with SteamVR. Although Valve is the company that developed Steam, it doesn't require users to have Valve Index to play VR games. They can use any equipment compatible with Steam VR. But if they purchase Valve Index, they also get Half-Life: Alyx, which is one of the most popular VR games for now.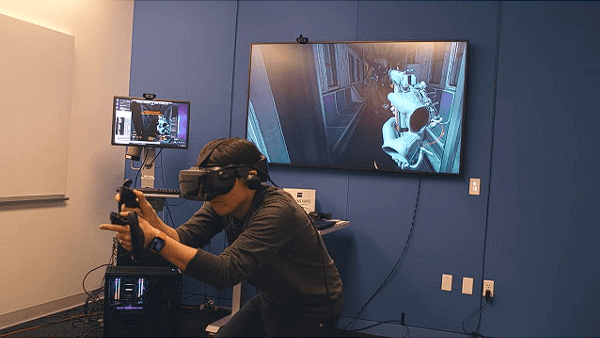 A person playing Half-Life: Alyx using Valve Index.
⚫️ HP Reverb G2
The headset was developed in collaboration with Valve and Microsoft, so it's compatible with both SteamVR and Windows Mixed Reality. The previous version was made specifically for Windows Mixed Reality, but since Steam offers larger VR games and software library, HP reworked it into Reverb G2. 
Compared to Oculus Quest 2, it's more expensive, but as a PC-tethered VR headset it's more affordable than Valve Index or VIVE Pro 2.
⚫️ Google Cardboard
This VR headset is quite obviously the cheapest. It's a VR experience that anyone can build or buy. The device is basically made of cardboard, and works with a smartphone. Once you have it, you can explore a variety of apps on Google Play and the App Store.
Unfortunately, Google discontinued the device but they provide instructions on building your own, and an SDK for Android and iOS development.
⚫️ Samsung Gear VR
This device is one of the few mobile VR headsets, and it's only compatible with Samsung's smartphones. Moreover, Samsung stopped supporting and selling it a couple of years ago, so users can only buy it through retailers.
As you can see, phone-based VR still hasn't achieved much progress due to the limited possibilities of smartphones. Mostly, people buy PC-tethered headsets, standalone headsets, and headsets for consoles. There are devices like Oculus and VIVE that require a smartphone for a setup or as a controller, so they can launch mobile apps. The development of the mobile VR segment depends on smartphone manufacturers. For now, they're busy with other directions like flexible smartphones.
When choosing a platform, you should understand that your app will work on that specific platform only. If you develop a desktop application for PC, it won't be available for console and smartphone users.
How to develop a VR application?
Before you start searching for a
VR software development services
contractor, you should figure out the major goals of your app. Why would the target audience need such an app? What's its main value? Why does it need to be VR? If you have an existing application and want to add VR features to it, think about how it can improve your app and what you want to achieve. It will help you build communication lines with the contractor and they will understand you better.
Then you will need to choose the platform — smartphones, computers or a console. If you want your app to be accessible on all possible platforms, you'll need to develop a separate application for each of them. You will also need VR
software development
kits and game engines.
Platforms and SDKs
⚪️ Smartphones 
If you want a mobile VR app, remember that mobile VR still has a number of problems. There aren't many good phone-based VR headsets yet, so your application will probably have a smaller audience than a desktop one. It's also difficult to create high-definition content for mobile VR apps, as mobile CPUs can't handle high load. The size of mobile storage is not enough to process high-quality graphics and animations. That's why VR application development for PCs and consoles is more popular – it offers better performance and graphics, even though its development is usually more complex and time-consuming.
However, mobile virtual reality has a competitive advantage since it gives users immersive experiences on the go. If you're absolutely sure that mobile VR is what you want, you will need to choose an SDK.
Oculus Mobile SDK
. The SDK contains tools and libraries for C/C++ development for Oculus, and for Samsung Gear VR. Samsung's VR headset was built in collaboration with Oculus, so their SDK fits perfectly to build apps for GearVR, too.
Google VR SDK
. The best tools to build VR apps for Google's headsets are provided by Google, of course. Their developer community is vast and provides hundreds of frameworks, tools, APIs, and SDKs. This VR SDK also provides an API for native code in C and C++. Using this SDK, developers can create apps for iOS and Android that can be used with any mobile VR headset.
⚪️ Computers
Virtual reality app
s developed for Windows, macOS, and Linux are compatible with most VR headsets. PC applications give users the most immersive experience and make it easier for them to explore the virtual world. These applications can be made for various purposes like gaming, education, marketing and so on. There's a big variety of available software development kits for desktop development.
Oculus SDK
. This SDK is provided by Meta. Using it, you can develop apps for the Steam platform, and distribute them in the Oculus store. Today, Meta sells only one headset – Oculus Quest 2, but their previous devices are still in use.
Open VR SDK
. It's an SDK provided by Valve, it communicates with Steam VR and any compatible device. It's pretty useful since you don't have to target any specific VR equipment. However, if you target Valve Index users, this is your only option.
Viveport SDK
. This SDK is provided mainly for the devices from the VIVE line. The apps are distributed via Steam and are available on PCs.
Windows SDK
. There's no separate SDK for Windows Mixed Reality development, so developers use Windows SDK with Visual Studio. WMR headsets include Samsung HMD Odyssey+, HP Reverb G2, Acer OJO, and more. Overall, they take about 6% of the SteamVR user base.
⚪️ Consoles
Although VR is mostly used on computers, consoles give users without powerful PCs an opportunity to experience VR. The limited power of PS4 used to hold PSVR back, but now that we have PS5, developers have more freedom to bring ideas to life. Talking about other consoles, it seems like Xbox still isn't interested in making VR hardware.
PSVR SDK
. Basically, it's the only SDK you can use for VR development for PlayStation. To get it, you need to contact Sony directly.
Gaming engines
To develop an interactive
virtual reality app
, you need a game engine. Gaming engines render images and provide input methods to users. They are specifically aimed at creating rich, immersive, and realistic worlds. Most popular VR engines are free, can be easily integrated with VR SDKs, and allow you to publish your app on all main platforms. There are plenty of engines on the market to explore, so we've compiled a list of the most used ones.
❗️ Unity
. The engine supports all main VR headsets, has a huge asset store for free, paid 3D objects, textures and audio files. It uses C# to write commands for game objects and the overall logic of the virtual world.
❗️ Unreal Engine
. This tool uses C++ language, it's more complex and sophisticated compared to Unity, but provides better performance and more realistic look among other engines. Just like Unity, it supports all main VR headsets.
❗️ CryEngine
. This tool allows developers to create highly realistic-looking interfaces. It's famous for its weather and water effects including volumetric fog, ocean physics, and full 3D cloud rendering, so this engine will suit you if you want to create nature-like experiences. CryEngine also works with C++ but supports only three VR platforms: HTC Vive, Oculus Rift, and OSVR.
❗️ AppGameKit VR
. It's a game development system for mobile devices that works with Oculus Rift and HTC Vive. This engine allows us to create basic VR experiences quickly. Unlike other engines that are free, AppGameKit costs $20.
VR app development is a very promising direction for business. If you have an idea for such an application, it's the best time to enter the market. Now that you know how this technology works, how it can be used and what you need to create such an application, you can search for a software development services company.
At Brivian, we are always ready to help with any request and consult you on the topic of VR technologies. We are experts in computer vision, mobile and desktop development. Feel free to contact us via the form!