The concept of the Metaverse is not new, but now it is being talked about because Mark Zuckerberg introduced Meta. Basically, Meta is the new name of Facebook — this is Mark's way of signaling that his company is now changing direction and focusing on the metaverse concept. A metaverse is a virtual space that allows users to immerse themselves in the digital world using a large number of different technologies. Something similar you've seen in the movie The Matrix. In this article, we will not make any value judgments about the metaverse and argue whether it is good or bad to live permanently in a digital space.
This article is a listing of metaverse companies that are working on creating their metaverse
.
What is Metaverse?
The metaverse is a digital space where people can live just as they do in real life — communicating with friends, working, or shopping. The only difference is that it will all be online. The concept is supposed to combine aspects of several technologies, including social media, augmented reality (AR), virtual reality (VR), online games, and cryptocurrencies. In Metaverse, a user has an avatar — their digital twin to interact in the metaverse virtual reality. Instead of viewing content on the phone screen, users actually enter this virtual world.
Users can get a similar experience in games like Minecraft or Fortnite. Create a character to represent yourself in virtual space and go! In such games, a user can spend a lot of time communicating with other people or making purchases in virtual stores. Fortnite even had concerts. In fact, right now games are much closer to the concept of a metaverse than what corporations are doing. They allow us to go beyond the world we are used to, but it is hardly capable of encompassing a huge part of life just yet. Giants like Microsoft or Meta want to create a new business space for brands to have new development opportunities.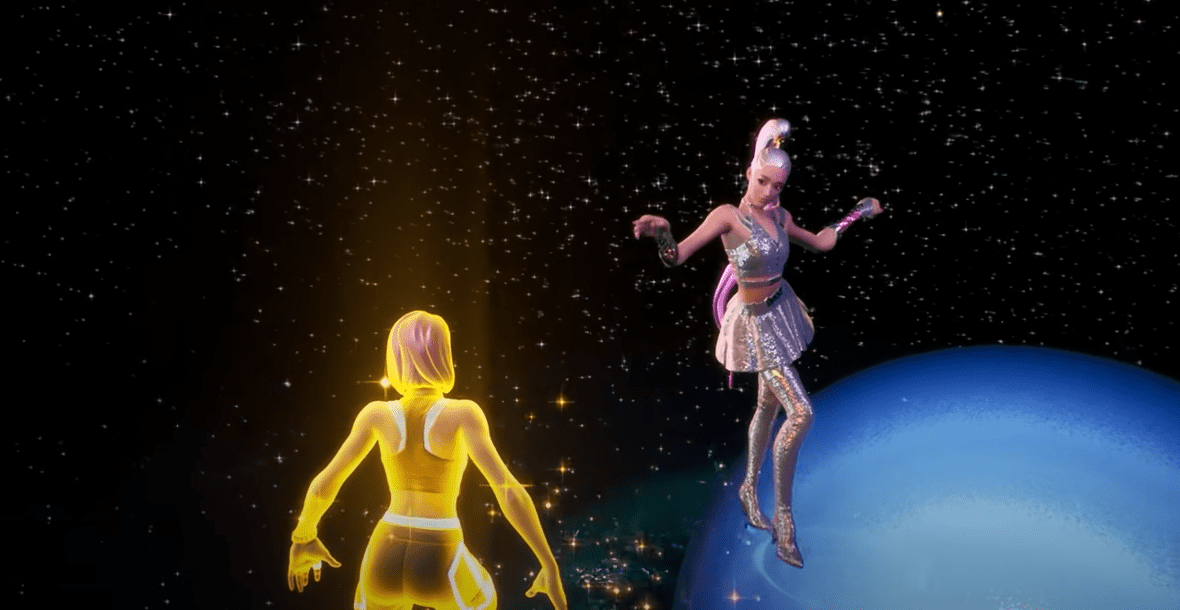 Fortnite x Ariana Grande. A more famous example of a concert in Fortnite might have been Travis Scott, if he had not been canceled.
Top metaverse companies
This is a list of companies that plan to build their metaverse.
✔️ Meta (ex-Facebook)
Meta is the main company developing metaverse to allow users and players to be in a vast network of three-dimensional virtual worlds in real time while retaining identity and payment history. According to Mark Zuckerberg, technology is something that gives us the power to express ourselves and experience the world. Zuckerberg says in his address to users that the way we do things means that we are living some kind of experience. And now all of this can be moved into digital mode. According to Zuckerberg's idea, in the future, we will exist in a digital universe on a full-fledged basis. That means, instead of being in the real world as we are now, we will be immersed in the VR world. Mark shared his ideas about creating a new virtual space where people, not confined to physical bodies, would become part of the content rather than just viewing it.  
Mark Zuckerberg renamed his company Facebook to Meta to make it more Meta.
✔️ Microsoft
Microsoft has its own plan for branding the Metaverse. They plan to roll out Mesh for Microsoft Teams, which is somewhat like a Metaverse. Several new features like Together Mode are aiming to make virtual spaces with better collaboration. For example, Microsoft believes it will help colleagues from different time zones meet in hologram format and better analyze data and make decisions. Together with Qualcomm, the company is also building a new set of augmented reality chips for Metaverse to provide access to the new features. Microsoft is one of the leading companies developing Metaverse, having updated AltspaceVR to make Metaverse technology safer for users and players.  
✔️ Roblox
Roblox Corporation is focused on creating a metaverse, offering an open gaming platform that allows players to create their own digital and interactive worlds. The Roblox game is already a popular virtual world that may be an early version of the metaverse platform. It provides several games on its platform, and some of them offer virtual worlds where players can interact with each other effectively and freely. A couple of years ago, the platform mostly resonated with American users under the age of 13, but it has evolved into a global company with an ever-expanding pool of older users. Roblox already has nearly 50 million active users a day, so they have a big advantage in making products for a diverse audience.
✔️ Nike
A leading shoe brand is experimenting with metaverse technology in collaboration with Roblox. The company has created its virtual world "Nikeland" on Roblox, Nikeland is a free space for game exploration. Players will be able to try on new athletic shoes and run a marathon in Nikeland. Nike intends to simulate a real-world experience in a virtual reality world. Players will also be able to wear Nike digital shoes. It has also launched exclusive virtual products to enhance the virtual "Nikeland experience." Several mini-games and award-winning games have been launched in the 'Nike world'.
✔️ Decentraland
Decentraland is one of the big companies developing Metaverse as a platform for content producers and businesses looking for a new artistic environment or commercial opportunities. It helps users create as well as monetize various applications and content by buying virtual pieces of land in Metaverse technology.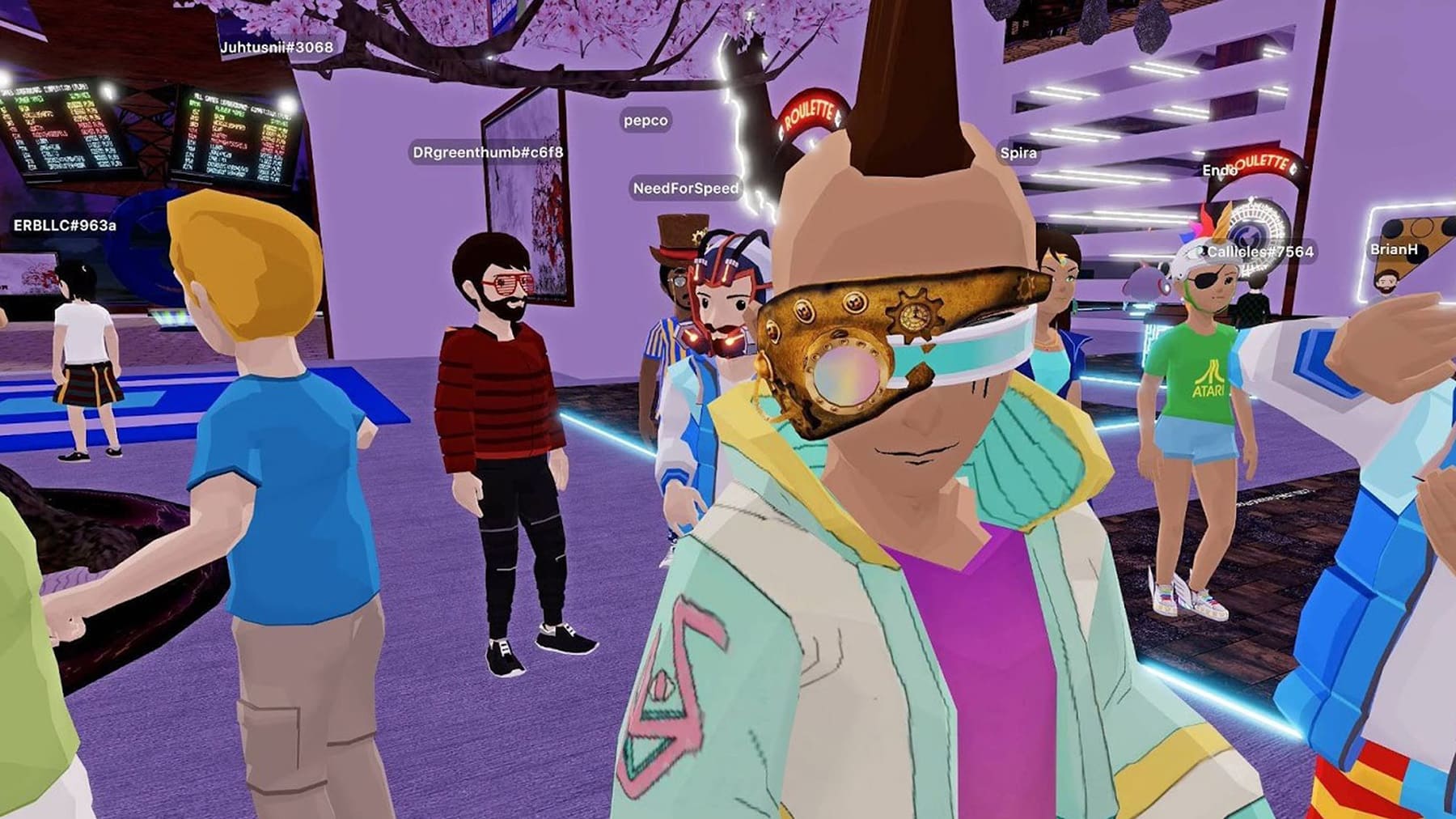 Decentraland Metaverse
✔️ NVIDIA
NVIDIA is one of the leading companies in the Metaverse marketplace. They took the lead in distributing free copies of a program created to develop Metaverse-ready assets, known as Omniverse. Omniverse Enterprise has only recently hit the market, but it is already being considered by hundreds of companies and downloaded by tens of thousands of content creators. Even if Omniverse ultimately fails to gain traction, it's still likely that Nvidia will benefit from the metaverse trend. NVIDIA is becoming a popular Metaverse development company, supporting artists and content creators to create virtual worlds and products. The company's high-end graphics processing units (GPUs) have always been its core business. Its GPUs will be in high demand as the meta-universe trend gains momentum, allowing consumers to enjoy crisp and clear 3D content. Metaverse has a number of partnerships related to sharing Metaverse-related content. It will also help users create personalized avatars to bring visions to life.
✔️ Epic Games
Epic Games is at the forefront of big companies developing Metaverse with a significant wave of development and innovation. This Metaverse company has announced a one million dollar investment for the Metaverse development in 2021 to pave the way for game developers to explore a plethora of opportunities on Web 3.0. It has also invested in Spire Animation Studios to port story assets such as worlds and characters into the Metaverse.
✔️ Unity
Unity Software is a well-known Metaverse company. It offers a platform for real-time 3D software development with access via augmented reality. It is focused on empowering enterprises with advanced tools and technologies such as 3D, 2D, virtual reality, and augmented reality to develop Metaverse technology. Two of its products, Unity Personal and Unity Student, are offered for free to aspiring content creators. When these creators succeed, it is likely that they will become Unity's paid customers.
✔️ Autodesk
Autodesk is the industry's leading developer of computer-aided design (CAD) software, which is used to design buildings and products from one central location. Much of Autodesk's business involves creating software that helps designers draft buildings. It offers many products for architects and engineers, including tools used to create digital 3D animation, virtual reality, and augmented reality applications.
✔️ Tencent
The East is involved in the concept of the metaverse too. For example, Tencent is already China's biggest contender for world domination in the metaverse. The media conglomerate already owns a huge chunk of cyberspace with indispensable apps like WeChat or Kogou Music. Tencent has been on a cyber rampage lately, hiring new developers for immersive games, investing in every game maker in their field of vision, and registering some 100 meta-class universe trademarks. Tencent already has a stellar roster of portfolio companies or employees ready to contribute to every piece of the metaverse puzzle.
So what about it?
At Brivian, we believe that the metaverse virtual reality has great promise. Metaverse is expected to be a tipping point in creating a virtual world that connects people from all over the world. Each metaverse platform will have its own cryptocurrency or tokens that users can buy and use online on their platform. Currently, Decentraland and The Sandbox are two popular metaverse cryptocurrencies that can be used in their respective metaverse games. It could be used for such things as virtual concerts, virtual travel, shopping, entertainment, and more. The scope of the meta-universe is not limited to a specific action. It is more relevant in today's pandemic world, which forces people to work from home. In such cases, employees can join a virtual office rather than see individual workers on a grid of video calls.
At Brivian, we can advise you on metaverse expectations or share our expertise in metaverse development. Our team of professionals will help you with problems related to metaverse virtual reality, and deal with the decentralization of your application or 3D avatarization.
Other articles on related topics:
✔️ What Is Metaverse: a Lucrative Opportunity Or a Futuristic Utopia?
✔️ Metaverse Enterprise Solution: How Business Can Use Meta Technologies