40 years ago, homebuyers and realtors advertised houses for sale and for rent in the newspapers, and buyers and renters bought fresh issues to find housing. Now, instead of newspapers, users download real estate mobile apps. Applications allow us to find a house in the right area fast, see what is in the neighborhood, and even see the premises online.
Mobile real estate application development technologies make it easy to find and buy a home, which is convenient for realtors and tenants. To create such an app, it's vital to study the market well, choose a niche, and find an experienced development team. In this article, we will tell you what rental applications exist, what the market leaders are today, and what pitfalls await entrepreneurs who plan to launch such a project.
Real estate app: statistics and facts
In 2018, the National Association of Realtors released a
detailed report
on the relationship of their industry with digital and modern technologies. The data in the report speaks for itself: 90% of realtors and their clients use online services to find and sell apartments. 
Every first real estate firm has its own website with a list of homes it offers to the public. Increasingly, companies are also engaged in software development, that is, they create mobile applications with the same options as on the website.
The pandemic and various factors, ranging from the newfound flexibility of remote working to government stimulus payments, have fueled real estate growth. Because of this, real estate app downloads also increased by 14%, from
20 million to 23.5 million
.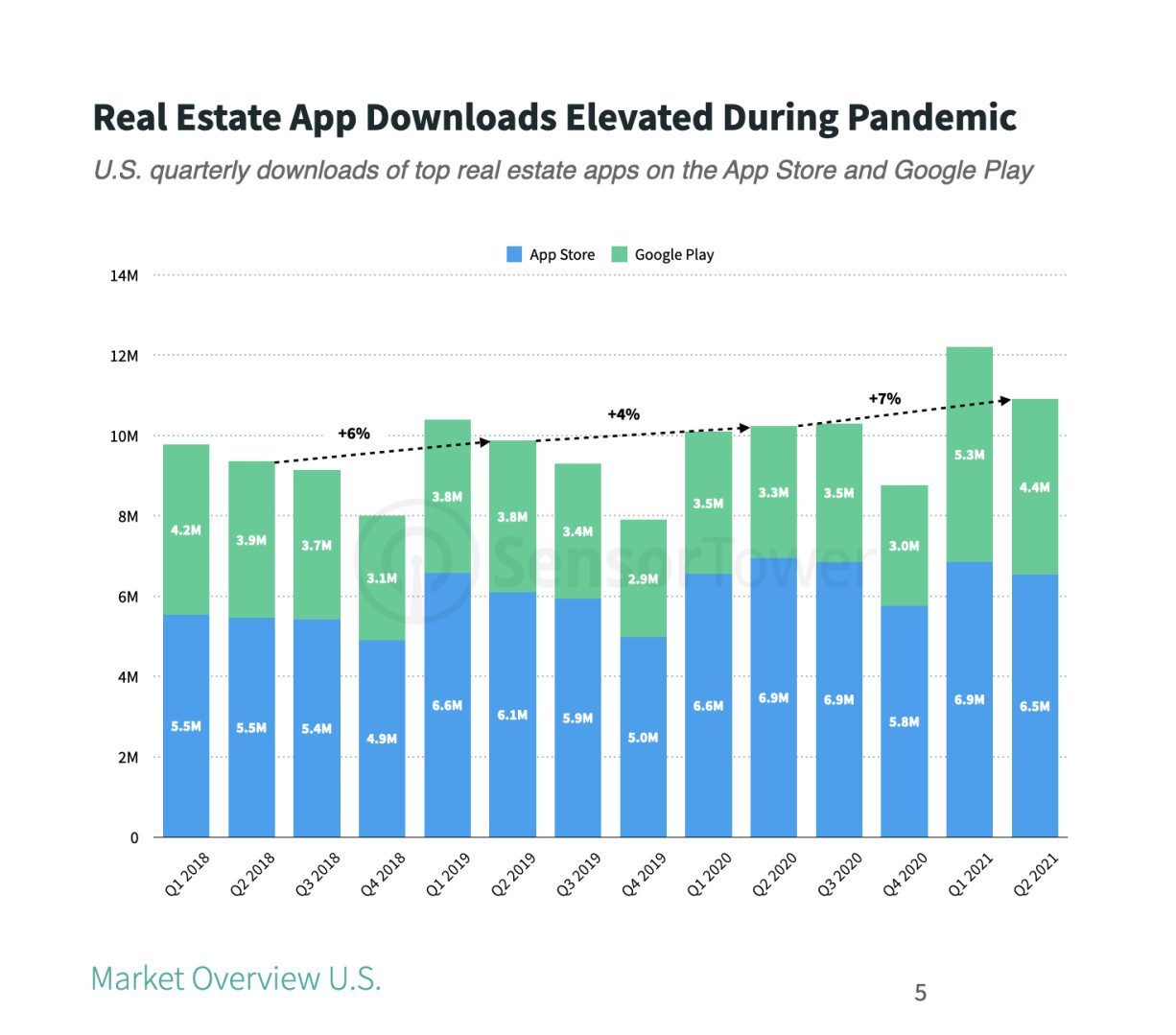 Real estate app development statistic of apps downloads 2018-2021.
As for the audience age, real estate applications are used by people from 18 to 90 years old. According to NAR statistics, the most active users of real estate applications are millennials (25-35 years old) and middle-aged people (35-45 years old). Still, millennials make up the largest group of first-time home buyers at 65%.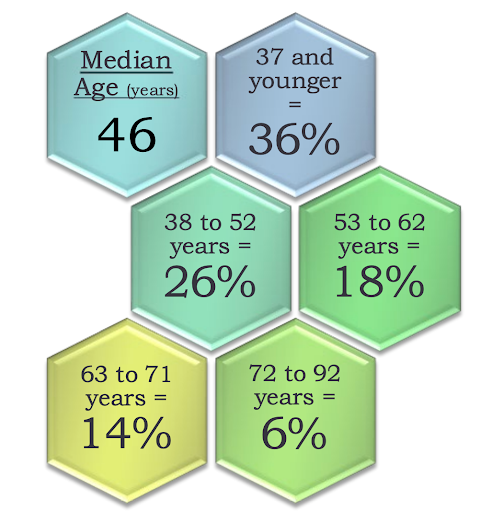 Real estate app development statistic of users' age.
In the real estate app space, both niche projects and general-purpose apps continue growing. For example, downloads of mobile rental management apps used by landlords around the world grew by 100% in 2021. Such statistics show that real estate apps are a profitable industry where you can gather an audience of different ages and incomes. For example, the average check for buying a home through an app in America is $100,000. Want to learn more about the rental app types? Read the next block!
Popular real estate apps: types and features
The real estate app market is really vast. Among the many proposals, there are several ones that will be useful to different target audiences. In this section of the article, we have collected three prime examples of real estate applications. You can be inspired by the market leaders to create your own application in the future.
Best real estate app — Zillow
The Zillow app wins overall because of its sheer scale. It has the largest list of real estate, with one of the largest filter lists. Its effective features include sharing a potential property with your partner or roommate, as well as the ability for tenants to start t
he work process
fast. 
The application covers almost all user needs. Zillow offers the ability to post listings for apartments for sale or rent, travel through real estate virtually, and contact agents. Properties on Zillow can also be viewed through video tours and photos. Users can even receive notifications of selected property updates from within the app.
Best for neighborhoods — Trulia 
Trulia is a subsidiary of Zillow. The peculiarity of Trulia application involves information about neighborhood objects besides the common options for a real estate application. Schools, shops, hospitals, and other important data for buying a home are in the application, along with the list of homes for sale. In addition, the creators of the application took care of the users and made a simple custom search, notifications about new houses that match the criteria, and pre-qualified financing and calculators.
Best for realtors — Realtor.com
Realtor.com is affiliated with the National Association of Realtors and 800 Regional Multiple Listing Services. Real estate agents can update their listings daily for free, making them the best rentals. By keeping agents up to date with their listings, landlords benefit from finding suitable potential tenants more quickly. 
The app shows properties through pictures and sometimes video tours, making it easy for a rental property owner to highlight the best features of the home and give prospective tenants a good feel for the property before they ever walk in the door. Realtor's app is free to use and makes revenue mainly through advertising.
Secrets of real estate app development 
Developing a real estate application is a complex process that involves some nuances. We have prepared step-by-step instructions on how to create such an application.
The first step is to do market research. We have just talked about three bright players in the real estate app market, but for successful mobile app development, it is important to study more competitors. Pay attention to the features of other applications and what kind of killer features you can offer customers.
A real estate app includes a lot of default features such as registration, property listings, filters and categories, and maps. The rest of the features can be added as desired, and the list can be adjusted to fit your idea. For example, you can add information about the area of the city where the property is, or make a chat with a realtor inside the application. In the housing description section, we recommend adding detailed information about each house and photos. The more attractive the ad looks, the more chances realtors have to sell or rent out housing.
Find a development company
Finding good performers who will realize your idea is probably the most important step in Real Estate Mobile App Development. Among the many teams, we advise you to pay attention to the one that can help with the previous two steps, that is, to conduct market research and make a list of features for the application with you.
At Brivian, we specialize in a comprehensive approach to software development. Our specialists will accompany you at all stages of work and constantly keep in touch. Write to us to discuss your real estate application idea.
A real estate application can be created using various app development services. First of all, we are talking about the stack on which programmers will work. There are two options: native and cross-platform development.
In the first case, you will need to hire two teams separately for iOS and Android. You'll spend more time on mobile app development, but the app will be more scalable. You can also focus on only one market to check the idea, depending on your purposes. For example, to attract more users in India, choose Android OS, because there are
96% of people
own Android-based devices. 
In the second case, only one team is needed, the one that works with React Native. The terms are halved, but the quality of the finished product may slightly decrease. We mean that in the long-term perspective, you might have problems with scaling the app because of implementing native modules and other complicated features. 
Make a release and collect feedback
User feedback is more important to you than any testing. After the release in the stores, carefully read what reviews have appeared. Users can point out bugs you missed or suggest ways to improve the user experience. Do not be afraid of negative reviews, because you can benefit from them and make the application even more convenient.
Moreover, in the next stages of application development, it will be useful to collect focus groups to test features or test the entire application
.
How much is real estate mobile app development?
Do you want to know how much it costs to develop a real estate mobile application? As with all other apps, the cost of developing a real estate app depends on the features included in the app, its complexity, and the time needed to develop the app. Take a look at the approximate
hourly rate in different countries
: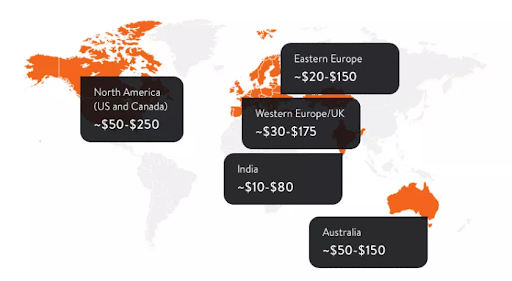 Real estate app development statistic of price in different countries.
As you can see, the cost of the app depends on the country the team is from. Moreover, the price depends on the features you have to work with. The more complex the application, the more expensive it will be. Still, real estate mobile applications with ample features will cost you around $20.000- $30.000. However, in case you are looking to incorporate more advanced features including multiple integrations, then the cost of real estate mobile app development will increase, and it can go around $50.000 to $200.000.
A few words in conclusion
Creating a rental app requires good market research, a detailed plan, and a strong mobile app development team. However, the real estate industry is a great place to grow your business, so don't be afraid to come up with and implement your ideas.
If you need help from an experienced development team, feel free to contact Brivian. Together, we will go through all the stages of developing a real estate application. We will be happy to help bring your idea to life!