<   BLOG
Writing a Mobile App RFP Like a PRO: How to Make an Effective Proposal for a Development Company?
20 SEP 2022
Managers of IT companies encounter dozens of potential requests for mobile app development every day. Some clients come with a 100-page ready-made requirements specification with a bunch of technical details, and other clients simply say they want something like Tinder, but not exactly. Which of these options will have the best communication with the contractor to get a more useful and accurate solution? There is no concrete answer to this question. A good development request is baby steps to a well-done project, on time, on budget, and with great features. In our article, we will figure out how to write a mobile app RFP so that contractors can be as helpful to you as possible and the finished product will attract more users.
What is RFP?
The task — to find a reliable software mobile app development company.
The solution — to send out an RFP to several app development services companies, do some bidding and choose one.
In order for the contractor to be of most use to you, you need to make sure that your request is understandable and contains as much useful information as possible. That's how RFP should work.
RFP or request for proposal is a document where a customer describes how they see the future product. RFP helps contractors prepare a better and faster proposal for you during the business analysis phase. Their speed depends on how well the document is composed. If you describe your requirements for the product better and more clearly, the collaboration will be more effective. Let's dive into the process of writing a mobile app RFP, and at the end, we'll give you some tips for writing a mobile app RFP.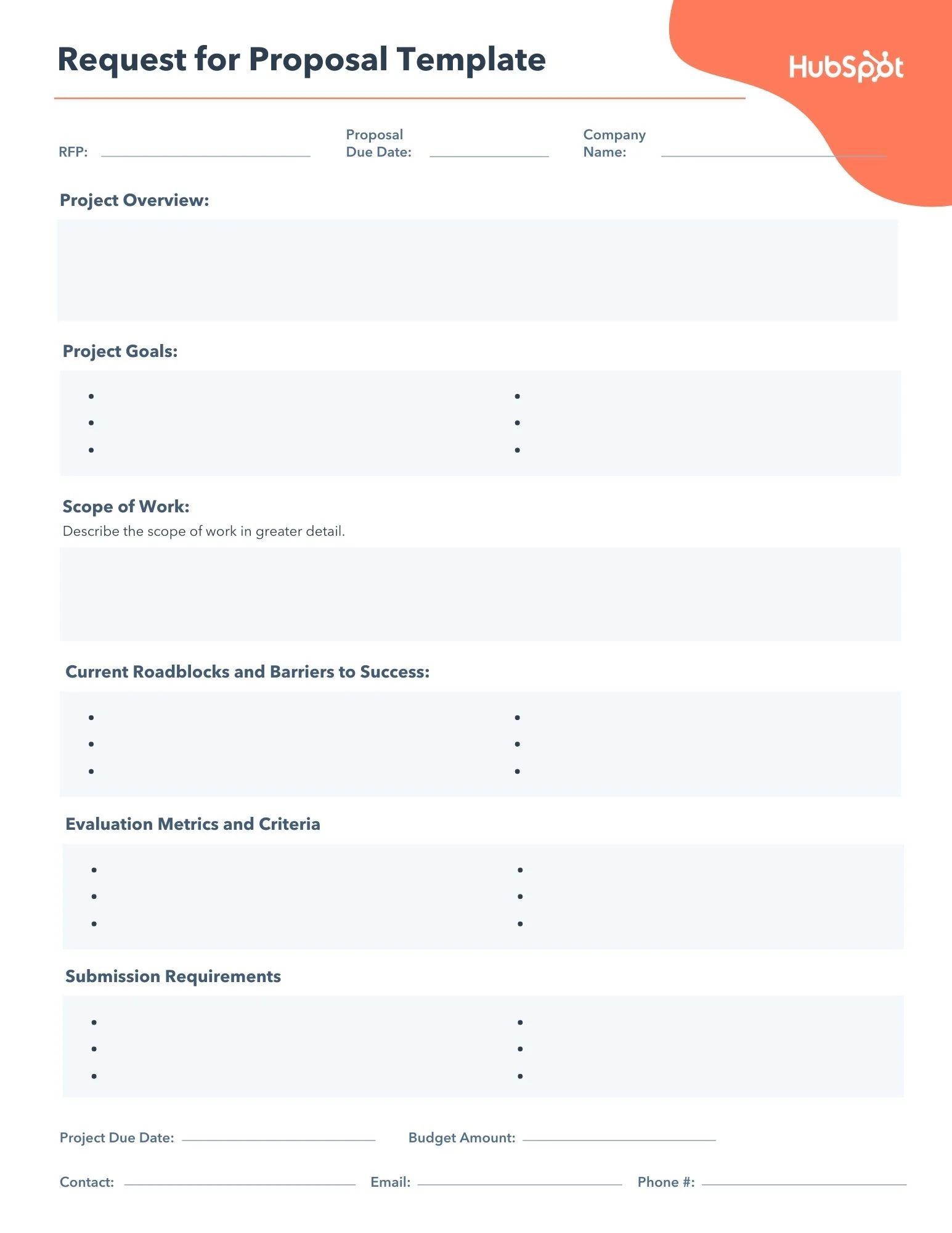 An RFP template.
Writing a mobile app RFP: process and tips
Self-introduction
When we meet a new person, we introduce ourselves and talk about who we are. Communicating with a contractor through an RFP works on the same principle. Tell the contractor about yourself, your company, its goals, missions, and values. You can add a few words about what products you already have, if any, or the characteristics of the market in which you operate.
Goals 
This is probably one of the most complicated but important blocks. As you write your RFP, you will come back to it, but this is where you should start. In this block, you need to describe your project goals and requirements. You need to understand what your business goal is and how your mobile app can solve it. You can write down the ideas in simple words, as they are in your head. At the initial stage, the main thing is to share the core thoughts. You can reformulate it later.
How to formulate the goals of the project properly? 
Answer the questions of what and why. The point of a mobile application is not its features and use cases, but its benefits for those who will use it. You can talk about what color scheme you want your app in, or that payment will be made through Apple Pay or Google Play. But such details will not give the contractor an understanding of what your product is for and who needs it. Knowing your goals will make it easier for the contractor to find the best solution for you.
The purpose of developing a mobile app is not just to be, the app helps to expand the customer experience. For example, an app for an offline clothing store is a new way to interact with clients. Therefore, the app expands the client market and increases sales. Plus, the app should have measurable goals. For example, the app should help increase product sales by 3 times.
Requirements
This is where you inform your vendors about what you expect from them. At this point, your contractor should begin to understand what your application will be like in general terms. 
To make it easier, we suggest answering these questions:
Will it be a web or mobile app? 

What features would you like to see in the app?

What is your monetization model?

Cross-platform or native app?
Of course, you don't have to know the answers to these questions. Before you write a mobile app RFP, you may ask an expert for a consultation. 
After that, you can move on to the list of the main features of the future mobile app. If you find it difficult to describe the features in your own words, you may use mobile app references. This is much clearer for contractors, since they will be able to download the application you are talking about and see it themselves. It's better to write that you want a map search system like Airbnb, than to tell them that you want users to be able to pull the map in different directions, set a radius of search, and the app will give them results only in this radius, but if there are few, then in a larger radius… In short, you get the idea. Once the team accepts your functionality requirements, they can help you to implement them.
Budget
How do you save time when choosing a contractor? Share your budget expectations honestly from the beginning. If the agency works in a different price segment, you won't waste your time on them. Or, the agency can offer you the best option that fits your budget. 
The cost of developing an application depends on the project scale, the number of platforms, and features. To calculate the exact cost of the project, you need a business analysis. Business analysts will systematize and clarify the requirements for the product and make them into a list of features and then prioritize them. 
Btw, it's okay if you don't understand how much development might cost and go around the market to assess the prices. 
Timeline
It's cool if you have a rough idea of when you want your project to start and when you want to get a working product. With this information, suppliers can get a clear idea of the right people for your project. If you need to finish a project on a tight deadline, the company can allocate more specialists or you can reduce the number of features. If you immediately disclose expectations for timing, it will be easier for the company to adjust them.
More tips
Before summing up, we would like to give a few more tips, proven by practice in working with clients.
✔️ Hold a series of meetings with the team.
No one is saying that you should come to the first meeting with a perfectly written mobile app RFP. On the contrary, a pre-consultation can guide you in the right direction if you're stumped on your goals, as well as help you draw up the requirements.
✔️ Use terminology that most people can understand.
This is the best way to write a clear and understandable RFP. Communicate with your manager the same way you communicate with your family or coworkers. You don't need to hide the context behind long, complicated words. Also, don't write obvious things, such as that the app design should be intuitive. It's already intuitive for everyone 🙂
✔️ Leave the contacts.
An important step you don't want to stumble upon. Contractors should clearly understand who they need to contact in order to offer you something. Leave the name, title, if it's your manager, for example, and your preferred method of contact.
✔️ Be open to everyone.
After you send out your RFP, you'll be in for a series of phone calls with different companies. Of course, it's hard to tell the same thing several times. But it's worth it. After all, you're looking for contractors you will feel comfortable with and who will meet your needs. The collaboration can last several months or even years. So choose wisely 🙂
Last steps
Let's go over it again, very briefly. A competent RFP means clear goals, maximum benefit for users, and your own strength. It is in your interest to make your RFP as clear and detailed as possible, so you can find a development company that covers your needs faster. Unfortunately, you cannot go to a development studio and say that you want an application that will make you a billionaire in a year.
The process of writing a mobile app RFP can be difficult, but it's well worth it. A well-drafted RFP will help both sides understand what kind of product the client wants and what it will end up being. With a well-written RFP, you reduce the time to find a worthy contractor and can start realizing your business ambitions faster. The success of your project depends on how well you communicate with your contractors.
The Brivian team has great expertise in mobile app development for different niches. If you want to make a qualified product, drop us a line here and be ready for a call 🙂 We will discuss the project, help you with business analysis and calculate the final price of the project.