When
entrepreneurs
hear the phrase 'outsourcing app development', they imagine a long and complicated process of interacting with an outsourced team that will not bring a successful result. In addition, there is a myth that developing an app with an outsourcing team is more expensive for
businessmen
than hiring employees.
As you understand, there are many myths around outsource app development. In fact, outsourcing is not so black as it is painted.
You can easily find out if a team is professional by checking reviews on special platforms, such as Clutch.co. The outsourcing market is full of contractors with different experience and prices. If you want to understand completely what the cost of outsourcing app development is based on, read this articl
e.
Outsourcing app development: numbers and statistics
The annual
outsourcing market
growth rate between 2021 and 2024 is estimated to be around 3 to 5%. According to
Statista
, in 2021, the global IT outsourcing market is valued at approximately $95 billion, which is impressive but still not the highest in the industry. In fact, fluctuations in the size of the market are quite natural and occur every year. Over the past 5 years, the market has grown from $88.9 billion to $98 billion in 2024.
It happened because it is quite difficult to find a qualified specialist for the team. Searching for a person on job sites or on a freelance exchange can take months for the HR department. It is much easier to turn to an outsourcing company that has proven specialists. Consequently, tech businesses have been growing more confident about hiring dedicated developers and buying managed services.
Here are some numbers that clearly reflect the state of the technical market today: 
A McKinsey survey shows that

87% of organizations

are already experiencing shortages.

In Sweden alone,

70 000 developers

or digital professionals

will be needed in the market by 2022.

Israel, one of the world's top three tech start-up countries, is experiencing a

15% shortage

of software developers.
So hiring an outsource development team is
rather a trend than a shame.
But what about the cost of outsourced app development? What price should
you
be willing to pay for the product? Let's figure it out.
Average cost of outsourcing app development
The question on the
cost of outsourcing app development
is similar to asking 'how much does a car cost?'.
It can cost from
$10,000 to the scale you want to go to. The overall cost of development is defined by the project requirements,
operational system
, the technology used, developer's experience, and location.
But for all the people out there who only understand numbers, the cost of developing a mobile app ranges between $15,000 and $1,00,000. That means you could get a simple app developed for around $20,000 to $50,000 range. Whereas, a more complex and feature-rich app could go well above the $1,00,000 mark with outsourcing.
Among other things, the app can cost less. For example, if you are hiring contractors in the South Asian region. But along with the low price, you also get a low-quality product
.
You can
outsource app development
in any area of IT. We at Brivian are ready to implement any of your ideas for any market niche that seems most interesting and profitable to you. Here are examples of areas where apps are outsourced. If you haven't come up with your idea yet, take a look at this list.
Study it carefully — perhaps the idea for your business is found here! In this case, do not hesitate

to write to us

. And we will discuss all the details of the project!
Of course, the ideas are not limited to this list. You can come up with a unique concept and share it with us by email. We will help you realize your idea.
How much is the cost of outsourcing app development in different regions?
In different regions of the world, the
cost of outsourcing app development
is different
. Entrepreneur can choose in which country they want to develop the app. However, the qualifications of employees do not depend on the country of residence, and a high price does not always indicate a quality result. 
We suggest comparing prices in different regions of the world, because the location of the team affects the overall price of development.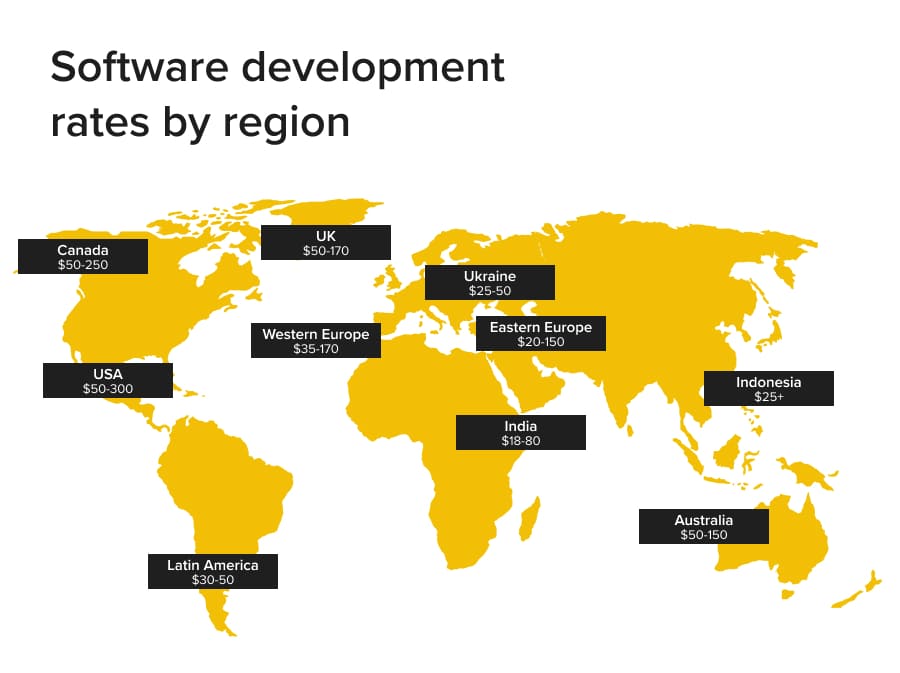 The cost of outsourcing app development in different countries.
Summing up, the most expensive development prices are in America and Britain, the cheapest are in Asia. You will pay the average price in Western Europe and slightly
lower
in Eastern Europe. And once again we remind you: the price does not always affect the quality.
To choose a good contractor, pay attention to reviews and project portfolios. You will find out the final price from a particular outsourcing company during the project evaluation, and after that you can make a decision.
What affects the cost of outsourcing app development?
So we got to the main question of this article: what makes up the
cost of outsourced app development?
 So, there are
four factors
: the complexity of the app, the composition of the development team, the hourly rate of each participant,
and the tech stack
. And, as we have already found out, the region in which the outsourcing company is located.
Complexity of the app
The golden rule of all outsourcing companies: the more complex the app, the more expensive it is. Complexity is, firstly, the number of features, and secondly, the stack on which the app is made.
You can request a one-page site with one option, for example, registering guests for an event. Such a site will have a simple design, which includes
a space for this user's data
, a registration button and a plate with additional information. And the only thing users will be able to do on the site is to send information. It will not take a long time to develop such a mini-site, which means that it will be cheap.
Another type of project that will not cost very much to outsource is the minimum viable product.
We advise to start
any major project with the development of an MVP. When you have a fresh idea for a product, first of all you need to test the hypothesis, get an initial investment, or collect feedback from users in order to improve the app in the future. Usually, MVP includes only the core features, so the development of such an app is not expensive for the entrepreneur.
But when it comes to a full-fledged app, the price will be high. Of course, a professional outsourcing team can make an app of any scale. For example, to develop a marketplace with all the necessary and additional features: a registration page, a buyer's account, a seller's profile, a shopping cart, and a payment page. Only it will cost a lot, because the team will take more time to develop all these features.
Finally, the technical stack for
mobile app development services
also matters.
For cross-platform development, you will need to hire one team that works with the React Native framework. React Native allows you to write one version of the code and adapt it to different platforms. This development is cheaper because it involves only one team and it takes less time. The disadvantage of this approach is that the app will have fewer functions than one written in the native language.
For native development, you need two teams for each platform. This approach is more expensive, but the result is worth it. An application made specifically for iOS and Android works better. But it will also cost more due to the amount of resources required for development.
Members of the team 
Another golden rule of outsourcing companies is: the more people on the project, the more expensive it is.
A typical
mobile app development company
team consists of a developer, designer, tester, and a project manager. Depending on the complexity of the app, the number of participants varies. Sometimes a full-stack developer is enough for a project, and sometimes it can require a whole team, including front-end developer, back-end developer, under the guidance of an experienced team lead. Same story with design. There are easy projects that a junior or middle designer can handle. And there are those that cannot be done without an experienced interface designer. 
The conclusion is this: a complex project —> a large and experienced team —> a high price.
Hourly rate
As we already wrote, the hourly rate depends on the region where the
mobile app development agency
is located. The cost per hour is also affected by the qualification of an employee: junior, middle, or senior. As well as the technologies on which they work. For example, it is important for a developer to know different libraries and frameworks, and for a designer to understand the various intricacies of interfaces and
create animations.
Famous apps that were developed by outsourcing mobile app development companies
If you still think that only small and medium-sized businesses with small budgets turn to outsourcing companies, you are mistaken. It turns out that even
enormous IT-companies
outsource
mobile app development services
. Let's see who else orders development from outsourcing companies!
Google
One of the largest tech businesses in the world is also one of the most active employers for outsourcing companies. The main reason why the IT giant outsources projects is efficiency. If a company with so many services developed everything in-house, it would simply not be able to pay full-time employees. In fact, a
Bloomberg
report states that in 2018, Google had more contractors than the number of in-house employees. Clearly, even with a million plus in-house employees, Google found outsourcing to be a profitable option.
WhatsApp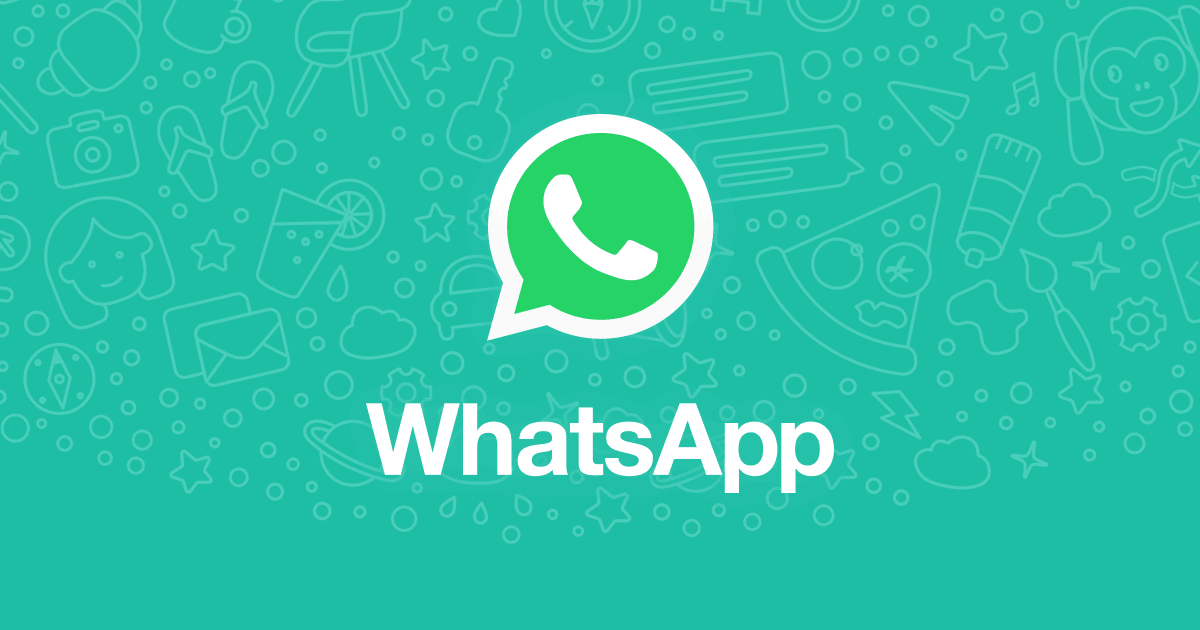 The logo of WhatsApp.
Today, WhatsApp is the most popular messenger in the world. According to
Statista
, the app's
average audience
is 2 billion users. WhatsApp has replaced SMS and video calling apps for users by bringing all these options in one place and making them intuitive and convenient. The creators of WhatsApp outsourced the development of the mobile app for the iPhone. There is a story that the person who developed the first version of the iOS app was later hired to work in-house. And it's true: a
whole page on the Meta website
is dedicated to him.
Alibaba
Alibaba, the largest online marketplace, owes much of its success to US developers who helped Jack Ma develop the mobile app early on. In fact, Alibaba outsourced several projects while scaling. What started out as a small internet company might have stayed that way if it wasn't for Jack Ma's growth mindset. The amount of talent scouting effort Ma would have to put into developing his app locally could not only cost him more time and money, but could also affect the quality of his services. Outsourcing to developers who were more qualified for the job helped him focus on his business.
A few words in conclusion
Outsourcing app development is a complex process during which it is important to take various details into account, including the price. We explained what the price of outsourced app development consists of:
technical stack, hourly rate, complexity of the app and the number of team members
. Now you know what to look for when hiring
a mobile app development agency
.
You can also always refer to Brivian. We will advise you on any issue related to the development of the app. If you have an idea, feel free to leave a request so that we can contact you. Our experts will evaluate all stages of the project. Do you want to know the price of your project?

Write to us

!