Most likely, you have an account on a social network. You post photos on Instagram, write short texts on Twitter, or search for the answer to a question on Reddit. Social networks capture the attention of the audience for many hours, users scroll through endless news feeds and create their own posts. New social networks appear all the time, and you can create such an application too. If you have already thought about how to
make a social media app
, this article is for you.
We'll talk about what kinds of social media apps exist, what trends and cool features are in popular apps, and what
app development services make a high-quality social media app.
What social media app is?
The social media app is an interactive and computer-based technology that enables the exchange of information over the Internet and creates virtual networks and communities. In social media, users share photos, videos, documents, and texts with other people through a computer or smartphone. The availability of social media has made them popular. Users like the concept of fast sharing of information, as well as the freedom that social networks give. There are over
4.62 billion
social media users in the world.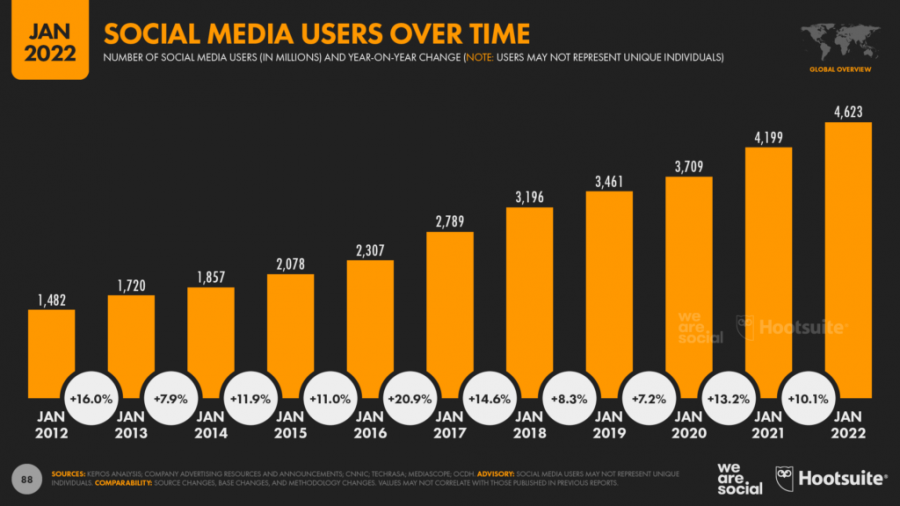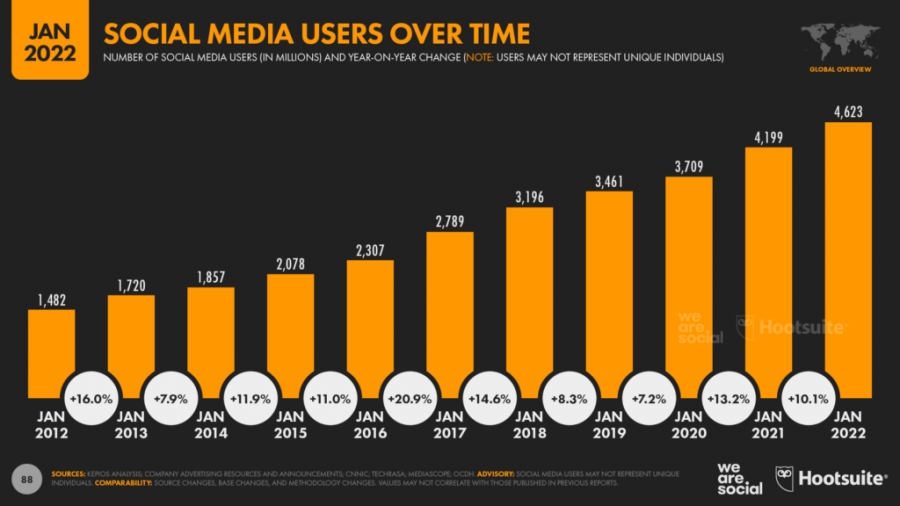 The growth of the users of social media apps.
There are different types of social media applications. If you want to create such an application, you need to figure out what types exist. Usually, there are six types, let's take a closer look at what they are:
Social networks (Facebook, Twitter, LinkedIn)
The main purpose of social networks is to provide communication between users. Different social networks are responsible for communication in different areas. For example, on LinkedIn you can find a suitable vacancy or an employee in a company, on Facebook you can 'make friends' with one of the many users, and on Twitter, you can share a short thought or maintain your own micro-blog. 
In many social networks, users can attach videos and photos to posts, so this feature is a must-have in such an application.
Media-sharing networks (Snapchat, Instagram, YouTube)
Have you taken a new photo of your cat? Post on Instagram ASAP! Know a cool pie recipe and film it? Put it on YouTube! Want to tell a funny story with an AR dog mask on your face? You are on Snapchat!
This is how media-sharing networks work: if you have some content, you can share it with subscribers. As you can see, each platform has its own content type. However, recently these boundaries have been blurred: on Instagram, it became possible to post long videos, and on YouTube, on the contrary, short ones, which are typical of TikTok.
Discussion forums (Reddit, Quora)
Discussion forums are online spaces for those who want to ask any question to real people. They became popular because there you could ask anything and get not only an amateur but also an expert opinion on your issue. On such forums, you can find whole instructions on how to fix a car or analysis of theories on popular films. In fact, it is interesting to read even if there is no need to find an answer to a question. 
Blogging/publishing networks (Medium, Wix)
Blogging platforms may seem similar to media-sharing platforms or social networks, but there is a difference. The main focus of blogging platforms is on making text content creators comfortable. It should be convenient for users to write posts from any device, and for their subscribers to read. Blogging platforms are also popular with brands because blogging on such a site can attract a loyal audience or increase the popularity of a company.
Bookmarking networks (Pinterest, Flipboard) 
This type of social media is like a board where someone sticks pictures with small nails. For example, on Pinterest, you can use the user space as a board. On the board, you can collect your favorite pictures, ideas for your home or wardrobe, recipes, and, in general, anything that can be saved as an image. People share their selections with others, thus also expressing themselves through the content.
Review networks (TripAdvisor, Yelp)
Review platforms are very useful for those who doubt the quality of a product or service. And if there are no product reviews on the main site where the user buys something, then people go to where this information is available. The reviews themselves are useful for the product, and when they are all collected on one site, it is also convenient for users. There are many applications with a narrow theme of reviews. For example, a platform with reviews for online courses or restaurants.
Top trends and the key market players 
To develop a great social media app, you need to understand what are the trends in the market right now and who are the big players. The important thing is that popular social media apps are not your competitors in the beginning, but your sources of inspiration. You can peep cool features from them or, on the contrary, see bad practices so as not to repeat them in your project. 
The best way to promote a new social network is to integrate it with other social media. For example, Instagram was built into other social networks at the start in order to attract more users.
Already decided to develop a social media application? Write to Brivian about your idea! Our experts will help you analyze the market and find the most suitable area for you.
In the meantime, let's look at the top representatives of the social media applications market.
Instagram has become popular thanks to the ability to share photos. Initially, this social network positioned itself as a photo album, but by 2022, it has turned into a real media giant with an audience of 2 billion active users. On Instagram, not only personal blogs are maintained but also blogs of companies with many subscribers.
TikTok is good for its simplicity. In this application for creating and posting short videos, the interface is as simple as possible, so even a child will understand it. Because of this, by the way, more than 30% of users in the application are children. Contrary to stereotypes, TikTok has a lot of space for developing both a personal blog and a business. Of course, this social network is still perceived as a stronghold of entertainment content, but we think that the time is not far off when we will see a lot of videos from companies on TikTok, not only as advertising but also in a regular video feed.
Recently, Twitter has been at the center of the discussion again. After the famous businessman Elon Musk started to negotiate the purchase of this social network, he decided to clean it up from bots and make the application more secure and free. We don't know if Musk will succeed, but one way or another, Twitter is now one of the 20 most popular apps in the world with an active audience of 436 million people.
Popular features you can add to the app 
Popular apps become what they are because of the cool features they have. What features should you add to
create a social media app
? Let's see.
Augmented reality and face filters
AR filters on social networks are now at the peak of popularity. Starting with masks that correct skin imperfections or increase lips, ending with those that change the appearance of the user beyond recognition.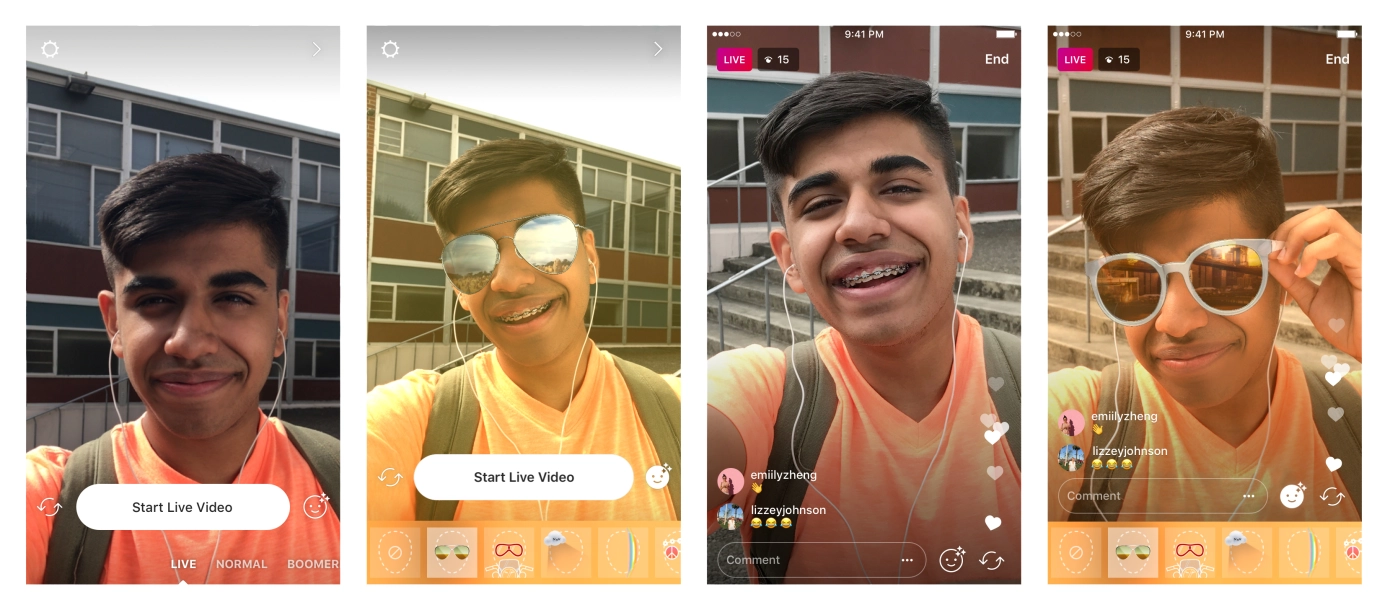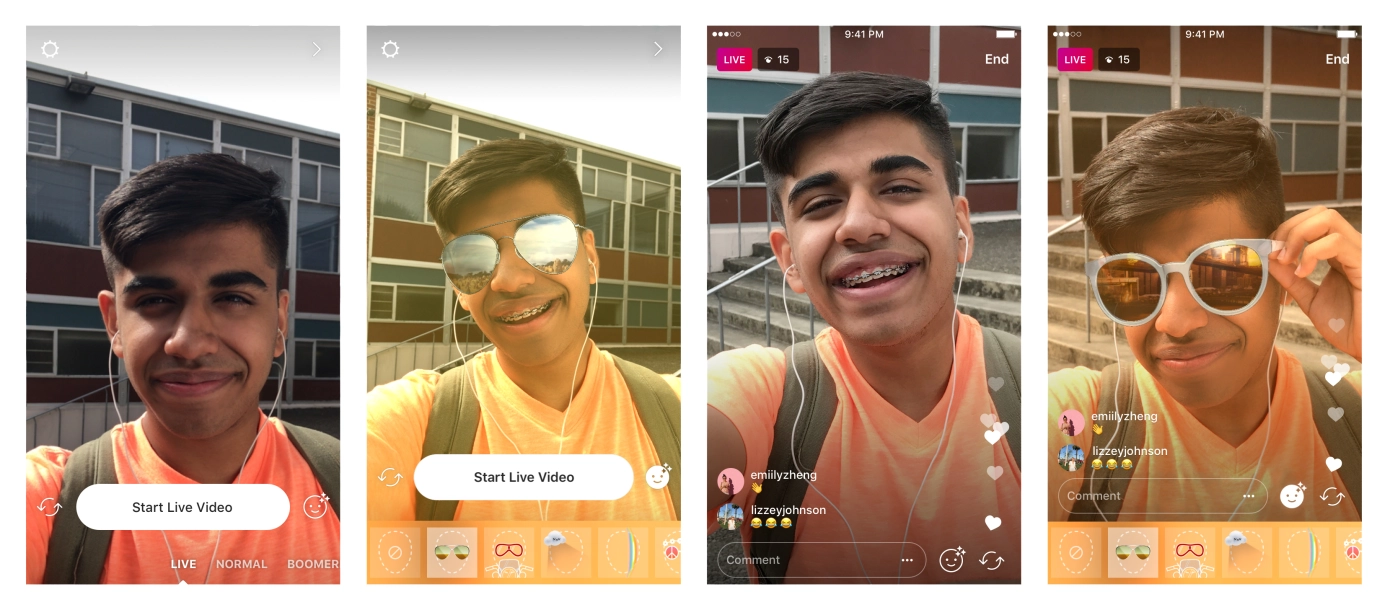 An example of filters on social networks.
You will be surprised, but in parallel with AR filters, which completely change the appearance of the user, the feed without filters is also very popular now. The trend for naturalness began a few years ago and is still popular. This is one of the contradictions of modern trends: they are often completely polar, so app creators have to balance in terms of a changing agenda.
Artificial Intelligence chatbots
AI bots are special programs in instant messengers that answer users' questions using prepared phrases. Bots are gaining popularity not only in social networks but also on media-sharing platforms. So, in private messages on Instagram, you can set up answers to questions with the same content. This is convenient for those who do business on the platform and constantly answer customer questions.
Top trends in the
development of social media apps
In the modern world, everyone is chasing privacy. Add the ability to make custom privacy settings to your social media app so that every user feels safe.
Default privacy settings include a private profile, restrictions on comments and private messages, and even a hidden number of likes. This feature recently appeared on Instagram.
You may love it or hate it, but there's no denying that it's one of the biggest social media trends. Voice communication has become so popular that in 2021 there was a whole application with voice rooms, where users tell stories or chat on a specific topic in live mode. Yes, yes, we are talking about the Clubhouse. We all know the sad fate of this application: at first, it quickly became popular, and after a couple of months, users forgot about it.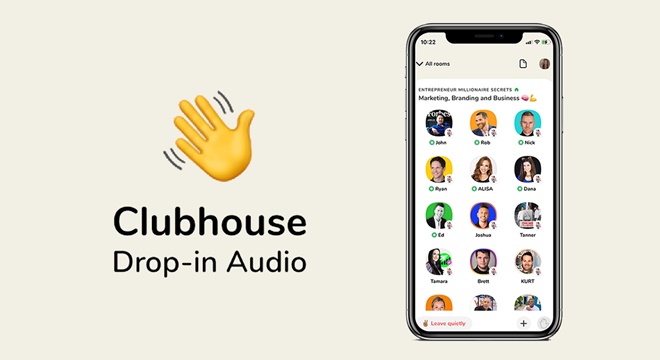 Clubhouse is an example of a social-media app.
The fact is that Clubhouse was able to gain an audience, but could not keep it. This is a good lesson for future social media creators: there should be something in the application that will interest users for a long time. In the best case, the use of the application should become part of the daily routine, then users will return to it constantly.
Another trend in social networks is a subscription to content. In addition to such well-known services as OnlyFans or Patreon, which work on a subscription basis, even Instagram is testing the paid content feature. Subscribing is a good way to monetize an app and also gives authors the opportunity to make money from content.
Technologies to
make a social media app
For mobile app development
, you will need two teams that work in native programming languages. The fact is that it is best to develop a social media application in a native language right away so that in the future it will be convenient to scale and add new features. Kotlin is used for the Android platform and Swift for IOS
mobile app development
. Of course, developing native applications will take more time than creating cross-platform ones with React Native. However, we recommend choosing this path.
By the way, our development team can help you to make a social media app. Perhaps you will choose only one platform, as the creators of Clubhouse once did — their application only worked on iOS. Or you want to make two native applications at once. In any case, please contact us with any questions. Our experts will be by your side at all stages of creating an application, from market analysis to release.