Even 20 years ago, investments were the lot of professionals. To invest in a project or buy company shares, you had to hire a specialist or become a pro in financial matters. How to invest properly was taught in universities or on expensive courses. Today, half of the USA is investing, and 20% of them succeed in this business.
Investing apps have opened access to investments to a wide range of users. Now any person who has the desire to invest in this can engage in investments. The investing option is built into the apps of large banks or made into a separate product. Accessibility has also been enhanced by the fact that such applications often contain educational materials for novice investors.
In this article, we will tell you how to create an investing app
that users will trust. In general, it is very important to form customer loyalty to your product — after all, their money is at stake. To find out how to attract the user, you need to look at competitors and study the basic features that an investment application should have. We will do all this together in our article.
Investing app market: key players and fresh statistics 
The investing app is a service that allows you to manage your portfolio and buy or sell investments via mobile app. Online trading has become a hot topic recently due to the fact that it allows ordinary people (commonly referred to as 'retail investors') to influence financial markets in a way that was previously considered impossible. Recently, the popularity of such services has been growing, as evidenced by statistics.
Like many other industries, mobile investment has taken off during the pandemic. Millions of people around the world, stuck in their own homes and sometimes out of work, have begun to learn new tools to make money.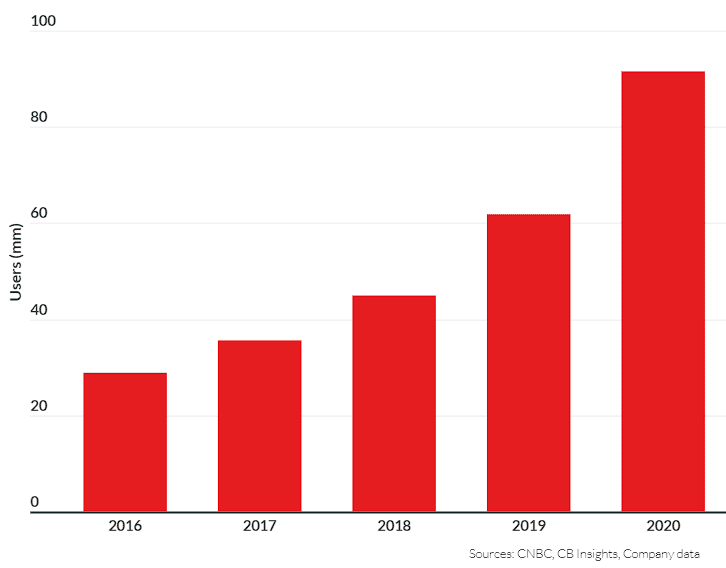 The number of retail investors tripled in 2020 compared to 2016.
And here is an interesting statistic from
Google
, which analyzed user requests on the issue of investments.
By 2021, investment-related searches have increased by 115%. 

Despite the pandemic, in 2021 there was 6 times more interest in the word 'bank' than in the word 'doctor'.

Mobile searches related to finance and investments have grown by 70% in the last two years.

84% of users prefer one app for all their financial affairs.

81% of users are interested in new investment apps and find them useful.
At the moment, the most downloaded investing app is
RobinHood
. While RobinHood is far from the first investing app, it was the one that exploded the industry in 2020. The reason for the success is that the creators of the application have provided an opportunity for ordinary users to access trading on exchangese easily without commission. Then other major players had to conform to the new market rules in order not to lose users. It's funny that in 2022, Robin Hood is banned in Europe and Asia, and only works in the United States.
However, this ban has created strong players in the Asian and European markets. For example, the Berlin-based app
Trade Republic
has the most monthly average users of eTrading apps in Germany, while Israeli app
eToro
is the most downloaded online trading app in the United Kingdom. The Chinese and Japanese markets are also different, making the mobile investment landscape highly fragmented. This is a big plus: you can adapt to a specific market and attract users with those features that are popular in the region.
Investing app development process
The process of creating an investing app, on the one hand, is similar to creating a banking one, but on the other hand, it has its own characteristics. To make the application run smoothly and seamlessly, you need to hire professional contractors. If you want to make your own investment application, leave a request at the end of the article, or

just click here

. In the meantime, let's discuss what the development process consists of.
Step one. Market research 🕵️‍♂️
Market analysis is primarily work with the target audience. It is important to understand who your client is, how old they are, where they work and what they are interested in. And the main thing is to determine the pain that the app can solve. For example, competitors in your industry have an overly complex app that newbies can't figure out how to use. So, we need to make a more understandable user interface. Based on the needs of the audience, you will create a list of features you need to add to the app.
Step two. List of features 📋
How to
create an investing app
so that customers trust you? Fill it with useful features, of course. Here is a sample list of options that you can add to an investing application.
✔️ Registration
The best way to
make the registration process comfortable
is to make as many options as possible. This can be registration through social networks, Apple ID, email or phone number. Don't forget to add a secure password recovery option in case the user forgets it.
✔️ Personal account
The user account should not only contain all information about their account and the state of the investment portfolio, but also be such that the client can easily track earnings and performance, review and adjust their portfolio from time to time.
✔️ Transaction management
This is one of the main features in the investing app. It should be convenient for the user to conduct transactions and manage savings through the tools available in the application.
✔️ Multi-currency wallet
It will be cool if your application supports different currencies. This will give the user access to the world market. You can also add a crypto wallet. The cryptocurrency industry is developing as rapidly as investments, so customers will love this modern option.
✔️ Payments
Everything related to money in your application should be extremely safe and convenient. Users will trust your product only when they are sure that the funds they invest are safe.
✔️ Notifications
Everyone on the exchanges is changing at a tremendous speed, so timely push notifications will help your customers keep their finger on the pulse.
✔️ 24/7 support
As we found out, there are a lot of beginners in investments now. And novice investors may have questions, including about your application. Create a sheet with frequently asked questions and answers to them and add a chat in which the user can talk to a technical support agent at any time.
Step three. Technical stack 🔨
The operation and performance of the application in general depends on which technical stack you choose. When it comes to investing in app development, we advise you to choose native development.
Native development includes the creation of two apps for different platforms: separately for iOS, separately for Android. The advantage of this approach is that the finished application will be more performant and stable, and will be easier to scale in the future. And when it comes to the application of investments, it should be so. Users should feel safe and know that the application will not hang at a critical moment.
Moreover, native development allows us to build stronger app security than other types of development, which is really important for clients
.
To achieve this result, you need to find a team that will make the application in two languages: Swift for iPhones and Kotlin for Android devices. By the way, Brivian is just such a team. Write to us if you want to know how much native development of your application will cost.
And if your budget does not yet allow you to make two applications, we advise you to leave the choice to iOS users. The fact is that Apple products are used by a more solvent and interested audience, so you will receive high-quality feedback and attract more first customers already at the start.
Step four. Creation & release 🎉
The
software development
stage is the longest process of
investing app development
. It will take patience to create a really high-quality product. Do not be afraid of asking questions to our team and always be in touch. Agree when it will be convenient for everyone to make phone calls. For example, you might communicate with contractors at the end of two-week iterations called sprints.
And when the application is ready and tested, it's time to publish it in the App Store or Google Play, depending on which platform you had in mind at the planning stage. Perhaps you will have as many as two applications, then your audience will consist of users of different operating systems.
How much time & money you'll spend to create an investing app?
The cost and time of developing an application depends on the number and complexity of features that you want to add to it. Also, the cost is affected by the professionalism of the team, because the more experienced employees in the contracting company, the more expensive their services will cost.
The approximate cost of developing an application for investment is $ 100,000, and the creation of such an application will take approximately six months.
As a result, you will get a full-fledged stable investment application for one of the operating systems, which can already be added to the application store and attract customers there.
Of course, the cost of a particular application is calculated separately, based on your goals and desires. If you would like to receive a custom estimate for your project from Brivian, please fill out the form below.