<   BLOG
How to Develop App Gamification Strategy for Mobile Apps to Increase User Retention?
07 OCT 2022
Games are cool. And what happens if you mix game elements with a mobile application? It can result in increased traffic, user engagement, and sales, which is even cooler. Of course, it can only happen if gamification is done properly. I'm a
mobile app development
expert at Brivian, and in this article, I'll tell you everything about
app gamification development, and how to do it the right way.
What is gamification?
Gamification is when people implement game mechanics and design elements into a non-game context: work, study, and everyday life. With the help of gamification, businesses adapt to their audience to compete successfully in the market and be effective, interesting, and worthy of attention. In other words, gamification helps to engage and retain users in the application. Let's figure out what user retention is, why it is needed, and how
app gamification development
helps with this.
What is user retention?
User retention
is an indicator that reflects how many users return to your product after the first experience and continue to use it.
It is much cheaper to retain a user than to attract a new one, and much more effective. If you invest enough money in attracting users, you can temporarily get into the top of the App Store. But just attracting users is not enough. An
Amplitude study
suggests that 80% of new users stop using the app just three days after downloading it. 
Increasing user retention
and minimizing customer outflow is the key to building a base of loyal, engaged users and ensuring sustainable growth. So how do you develop a product that can not only attract users but also retain them?
How gamification helps to increase user retention
Gamification uses people's natural tendencies to compete, achieve goals, and get rewards. The tools of engagement can be challenges, goals, rewards, and ratings. Gamification helps when users lack the motivation to return to the app. For example, in a fitness app, a training app, a budget management app, etc. Such applications benefit users but can be boring, so gaming elements will help you retain them.
Here are the main principles of
app gamification development
:
✔️ Motivation
. The user needs motivation so that they don't abandon the application. When you have to perform some routine actions regularly, you need to understand why you are doing them. So the user needs a goal that will move them forward.
✔️ Status
. The user must have some kind of development status, like the level of a character in the game. For example, a customer's status changes depending on how often they order something. Or, in the case of a language learning application, the user goes through a certain number of topics and gets to a new level.
✔️ Challenge
. People are naturally competitive, that's why there are many games where you need to compete with other players for victory. Gamification also uses this, for example, you can make weekly user ratings or leaderboards, and give the winners bonuses.
✔️ Reward
. Of course, the main motivation of the user to pass the levels is to get some kind of reward. It can be in-game coins, achievement medals, bonuses, discounts, or cumulative points. Receiving a reward motivates the user to move on and receive new rewards.
Other ways to increase user retention
Before choosing a way to keep users in the app, you need to figure out why they're leaving.
Here are the main reasons for users leave the app:
poor price-value ratio for the user;

poor technical implementation;

the application is inconvenient to use (annoying ads, complex UX design, etc.)
In short, to return users to the app, you need to get rid of its disadvantages or add something that's missing. Let's take a look at the main ways to
increase user retention
in an app.
Surveys 
User surveys will help you understand what is important to them, what their problem is, and whether your product meets their needs. If a user deletes your app, you can ask them to indicate the reason — you won't be able to keep every single user, but this way the overall picture will be clear to you and you will be able to correct the app's shortcomings and keep other users. It may turn out that you just overlooked a serious bug and one of the main features of the app doesn't work — you will only need to roll out the update, and new users will not leave because of the same problem.
Product guides
If it's difficult for the user to understand how to use your product, and it's not about design, you can teach them how it works. For example, add onboarding after registration, or when the user gets acquainted with the application, show how it works step by step: where to tap and what will happen. Instead of making the user figure out the app's complex system and get angry, take care of them and show them the flow they need to follow.
Email marketing
Mailing is a good way to remind the users about yourself. It sometimes happens that a user has registered, but then forgot about the product, even if they initially liked it. You can send them emails with information about changes, improvements in the product, promotions, etc. The main thing is that the email shouldn't look like spam, it must have some value for the reader.
Push notifications
Notifications are similar to email marketing, they also remind the user about the application. The main thing here is not to abuse them — if the user receives an infinite number of notifications per day, they will either disable them or demolish the application. The notifications should inform the user about something interesting to them so that they'll read it and open the application.
Loyalty programs
If users are given bonuses for the constant use of the application, it will encourage them to visit the app more often. For example, if you have a marketplace, you can give bonuses for a certain number of in-app purchases.
As you can see, there are different methods to
increase user retention
used in different situations. Remember that gamification isn't a pill that will cure all the app's imperfections and help you get back all the users. If there are no technical or UI/UX-related issues in your product, and you know that your users leave because they lack motivation, then you can think of
developing an app gamification strategy
. 
How to use gamification in different applications?
App gamification development
is used in applications from different business areas, from applications for developing useful habits to banking apps. Let's learn how gamification is used from the existing applications.
E-learning
Gamification in learning applications is already a standard. Users of such applications especially need motivation, as they need to use the application regularly and complete tasks. That's why apps that have gamification are so popular, one of them is Duolingo.
Duolingo shows users their progress with points, gems, levels, and achievement badges. The app encourages users to follow streaks and complete tasks daily. They also have leaderboards and leagues where users can compete and get gems as a reward. The app can offer users challenges and give them double rewards for completing them. Duolingo uses notifications to remind users that they need to complete a task and to encourage them. The app has illustrated characters, victory sounds, and animations.
Healthcare
Here's an example of how to use gamification methods in healthcare
mobile app development
— MySugr, an app for diabetics. Diabetics need to enter information about their blood sugar levels constantly to make sure they get the right amount of insulin every day. MySugr is an app that makes this routine process more fun by treating diabetes as a monster that the user needs to tame. Each user gets a monster to which they can give a name. The monster responds to the user when they enter data — glucose levels, injection time, meals eaten — and reacts positively or negatively depending on the data. By observing the monster, diabetics can better understand how their body behaves in certain situations. Also, they are more motivated to follow the recommendations of doctors.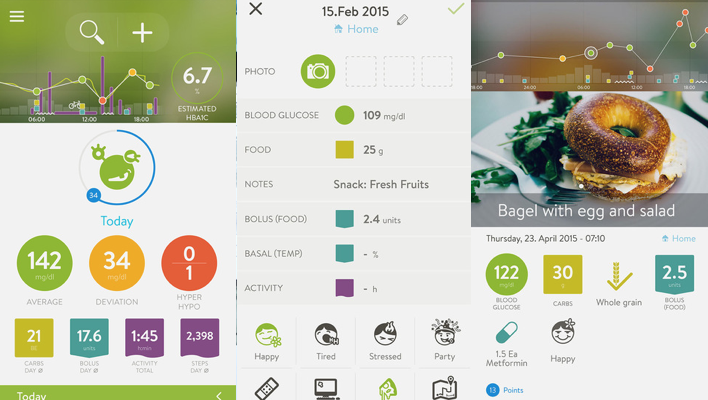 Gamification methods in MySugr app.
Fitness
Gamification allows users to bring some fun to exercises and workouts. One such app is PlayFitt — the app detects phone movements during exercises and gives users coins for completing them. Users can exchange these coins for prizes, such as a Starbucks or Amazon gift card or the opportunity to plant a tree. PlayFitt counts the repetitions out loud and tells the user when it's time to rest. When the user completes the goal of the day, the message "You did it!" appears on the screen. The app encourages users to do small exercises throughout the day. There is also a competitive element — the user can move up the leagues from trainee to elite. They can add friends to the app and create their own leaderboard for more connectivity.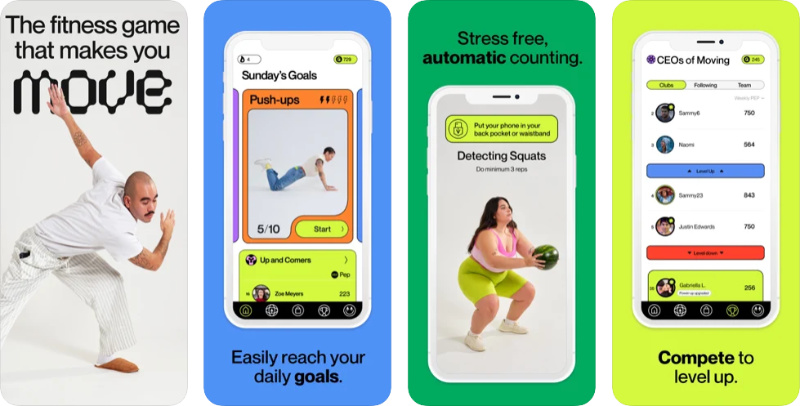 An example of gamification in a fitness app – PlayFitt.
E-commerce
Starbucks used
app gamification development
to improve brand experiences and increase sales. Customers register in the app to join the My Reward loyalty program. Every time a customer interacts with the app or makes a purchase, they receive several stars. The app has levels showing the degree of customer loyalty. The more often a customer visits Starbucks, the higher their level is. For the stars, customers can buy an extra cup of coffee, a sandwich, merchandise, and much more. Marketing researches show that this app has
significantly increased sales
and attracted digital traffic to Starbucks's platforms.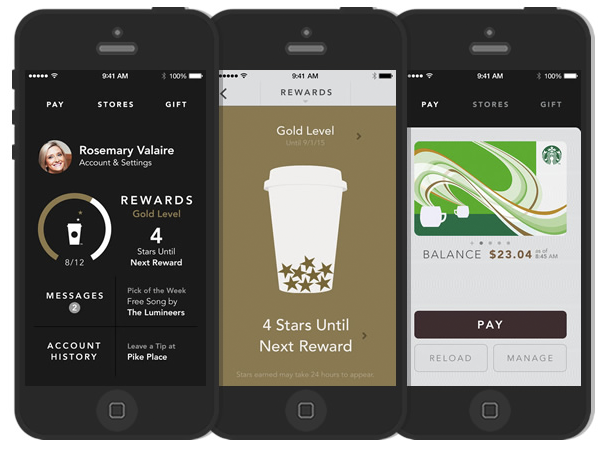 An example of gamification in an e-commerce app – Starbucks.
How to develop an app gamification strategy?
So, let's summarize. To start
app gamification development
, first, you need to understand why users are leaving. If the reason is not related to technical problems or complex design, and users lack motivation, then gamification will be an excellent option. Then you can take a closer look at competitors in your field of business and learn something from them — study what works and what doesn't work and compile a list of what would work for your app. 
The last step is to contact
mobile app development
specialists. To integrate gamification into an application, you need to work out the design carefully, think through the game elements, and make sure that everything works flawlessly.
At Brivian, we will help you with app gamification development, improve an existing mobile application, or develop it from scratch. If you are interested in gamification, fill out the form below the article or here, and we will get back to you to discuss your idea.